The Collective Service for Risk Communication and Community Engagement (RCCE) enables collaboration between a wide range of organisations to increase the scale and quality of RCCE approaches. It catalyses and accelerates expert driven, collaborative, consistent and localised RCCE support for governments and partners involved in the national response to COVID-19 and beyond.
ToolKit
The Collective Service's Starter Kit is a set of methodologies and tools across 10 steps to conduct your RCCE activities for supporting health emergencies.
DOCUMENTATION
Discover key guidance, tools, templates and vetted country examples to support effective cluster management at all stages of the Programme Cycle.
Help Desk
Receive remote technical assistance from the RCCE community team for coordination and information management questions.
Capacity building
Strengthen local competencies for an effective and efficient RCCE support in health emergencies response through training and materials.
There is no one-size-fits-all approach for effective community engagement. Understanding communities and adapting to reflect those insights will look different for every community. However, there are some guiding principles that apply to RCCE in all contexts.
Collaborative
Strengthen common and coordinated RCCE approaches
Data-driven
Generate, analyze, and use evidence on community perspectives
Community-led
Improve the quality and consistency of community engagement approaches 
CAPACITY AND LOCAL SOLUTIONS
Strengthen national capacity for improved local responses,
strengthen national capacity for improved local responses.
COVID-19 RCCE Strategy
Collective Service strategy – interim guidance for COVID-19 response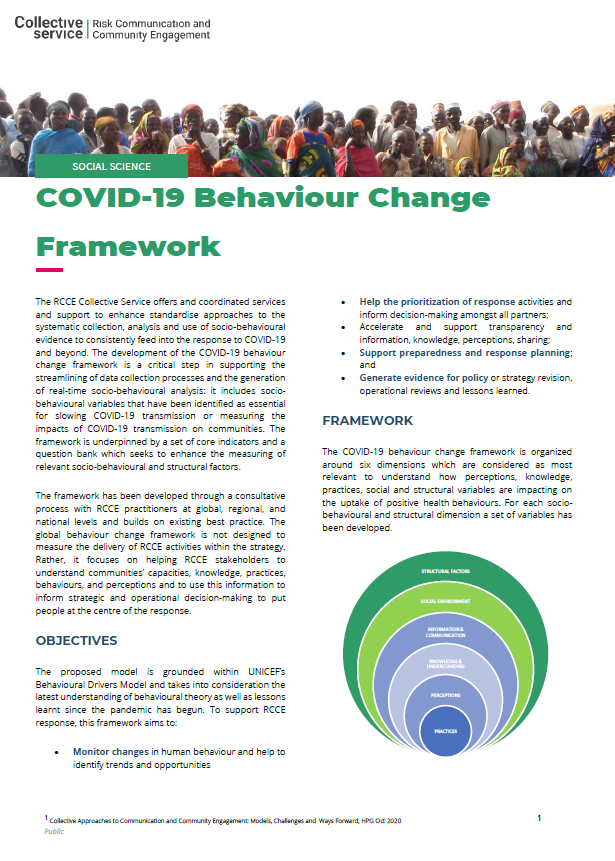 COVID-19 Behaviour Change Framework
Our behaviour change framework  for COVID-19
A Collective Service for RCCE
Description of the Collective Service
The Collective Service hosts a RCCE coordination forum, operational since February 2020, with support from GOARN. Open to any organisation working on RCCE related to COVID-19, it is the primary coordination platform for activities across the global response and is supported by dedicated sub-groups on specific topics such community engagement in low resource settings; migrants, refugees and other vulnerable groups; and analytics for operations.