Eastern and Southern Africa Region
ESAR Technical Working Group
The Eastern and Southern Africa Region (ESAR) Risk Communication and Community Engagement (RCCE) Technical Working Group (TWG) was established in March 2020 as one of four TWGs to to enhance regional partner coordination on operational and strategic planning, monitoring and evaluation as well as the support to countries on particular aspects of the preparedness and response to COVID-19.
The Terms of Reference were revised in February 2022 to encompass RCCE partner coordination for public health emergencies (PHE) with regional implications.
The RCCE TWG is co-chaired by UNICEF and IFRC with operational and technical support from the RCCE Collective Service for day to day management and follow up of TWG activities and actions. There are two subworking groups linked to the RCCE TWG-the Community Feedback SWG and the Media Taskforce. Membership and participation is open to all partners operating at regional level involved in RCCE response to address PHE. The RCCE TWG meets on the fourth Wednesday of the month between 11:00am and 12:30pm EAT.
Collaboration
Improve RCCE coordination and collaboration between partners responding to public health emergencies, including COVID-19, and the health components of humanitarian crises in Eastern and Southern Africa.
Knowledge Hub
Identify and share common approaches for addressing regional RCCE issues and challenges including contextualizing of shared resources and guidance for country level response actions.
Research & Data Analysis
Support compilation and analysis of behavioral insights, community feedback and social science data to support RCCE and cross pillar decision making
Capacity Building
Identify opportunities for training and capacity building of national RCCE TWGs,  partners or thematic experts and facilitate cross-country experience sharing and learning webinars/sessions guided by best practices.
Community Engagement and Accountability resources on the drought and food insecurity situation in the Horn of Africa.
MEDIA DIALOGUE | INTERNEWS
How to Boost Your Covid Storytelling
June 2022 – Webinar organized by Internews on COVID-19 in East & Southern Africa.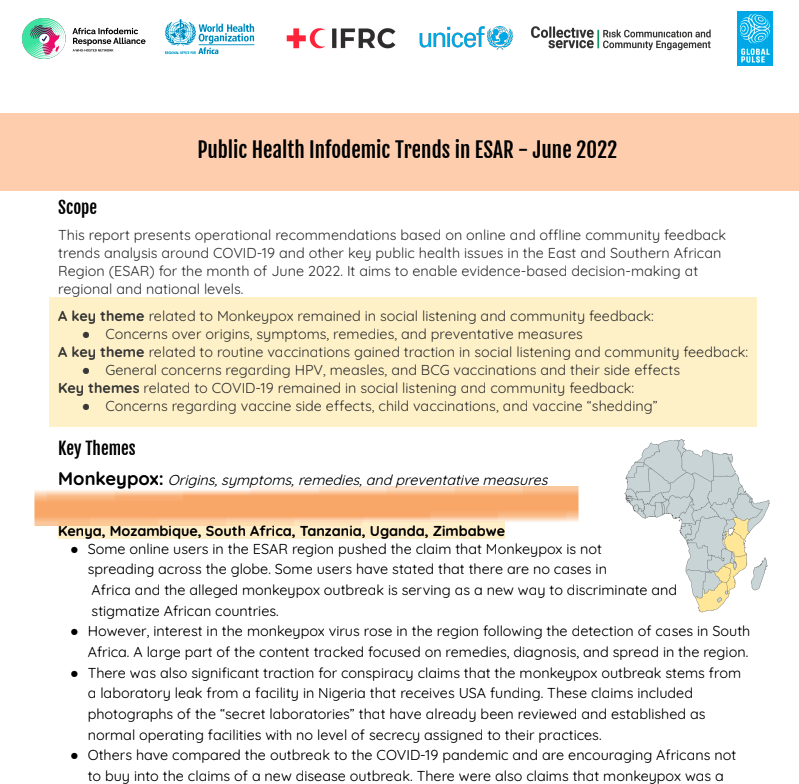 COVID-19 infodemic
June 2022 – Regional trend analysis of social data for advocacy and informed decision making
Latest Meetings
Access to latest meeting presentations or minutes from technical subworking groups
RCCE Technical Working Group
4WS AND COORDINATION IN COVID-19 IN KENYA
This case study explores how, in Kenya, an interagency "4Ws" Risk Communication and Community Engagement (RCCE) dashboard has been set up to map RCCE COVID-19 activities, showing who is doing what, where, and when.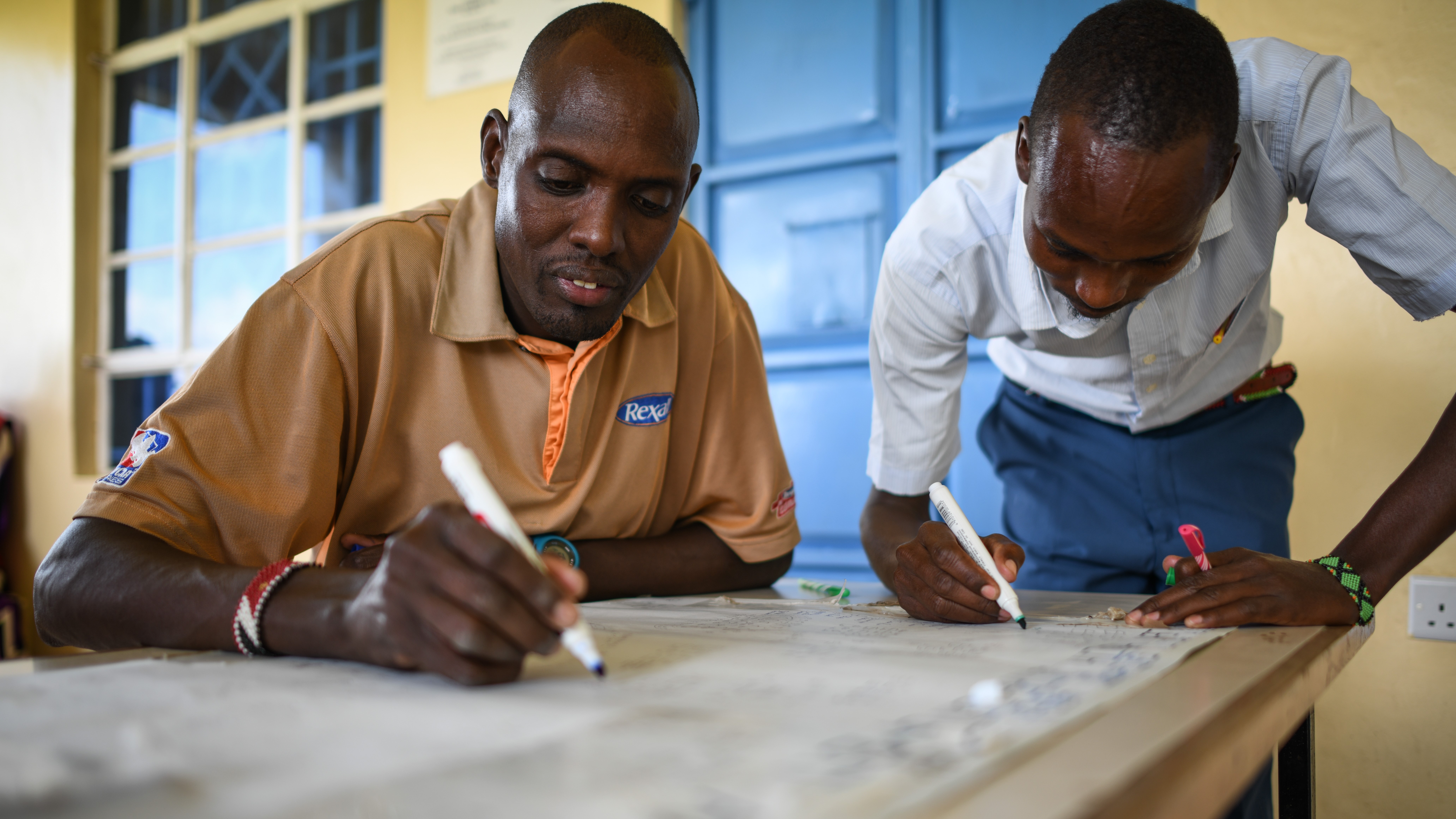 National-level RCCE coordination in Eswatini
A case study on how Eswatini has adopted a 'strategic pillar' approach to coordinate the many actors involved in their COVID-19 response. This approach is based on engaging partners around eight critical areas of work, with Risk Communication and Community Engagement (RCCE) one of the areas granted its own pillar.
Real-time Data for decision-makers
To respond to the infodemic, the Collective Service, UNICEF, AIRA and Partners developed a monthly Joint Report to triangulate data and provide recommendations to partners.
Information Management in Malawi
The Collective Service provided technical support to design with partners an operational presence mapping tools to make COVID-19 programming more efficient in Malawi.