Social Science
Social science research and analysis is vital to design and deliver effective engagement and communication strategies as it provides valuable insights into the culture, practices and experiences of communities affected by crisis.
Social and behavioral factors are critical determinants for preparedness and response actions in public health and humanitarian emergencies. Communities and individuals often interpret, accept and and/or adhere to emergency response recommendations based in part on their understanding and perception of the threat, their level of trust in public institutions, existing socio-cultural norms and traditions (e.g. health-seeking behavior), their historical past and their physical, financial and social capacity to act.
Both qualitative and quantitative social science research and analysis can help engagement and communication practitioners to strengthen community awareness, preparedness and response by understanding the context, and tailoring strategies and approaches to people's needs, capacities, and (existing) resilience mechanisms. Further, community participation in the development and implementation of social research is essential to define locally appropriate research questions and to generate meaningful evidence which can support advocacy and decision-making processes.
The Collective Service supports partners at the national, regional and global level to enhance standardised approaches to the systematic collection, analysis and use of socio-behavioural evidence.
Capacity building
Capacity building and training to support partners in applying social science evidence in health emergencies including data collection, analysis and operationalisation of socio-behavioural information.
Country level support
Providing direct support to country-level teams to formulate research questions, develop research protocols, data analysis and quality assurance of research outputs.
Data management
Data mapping and structuring to identify evidence gaps and to generate socio-behavioural trends and support the visualisation of socio-behavioural variables through a dashboard.
Develop tools
Adapt, develop and contextualise common tools, approaches and standards to support partners to conduct operational social science research and learn from communities about their views, perceptions, capacities, practices and behaviours.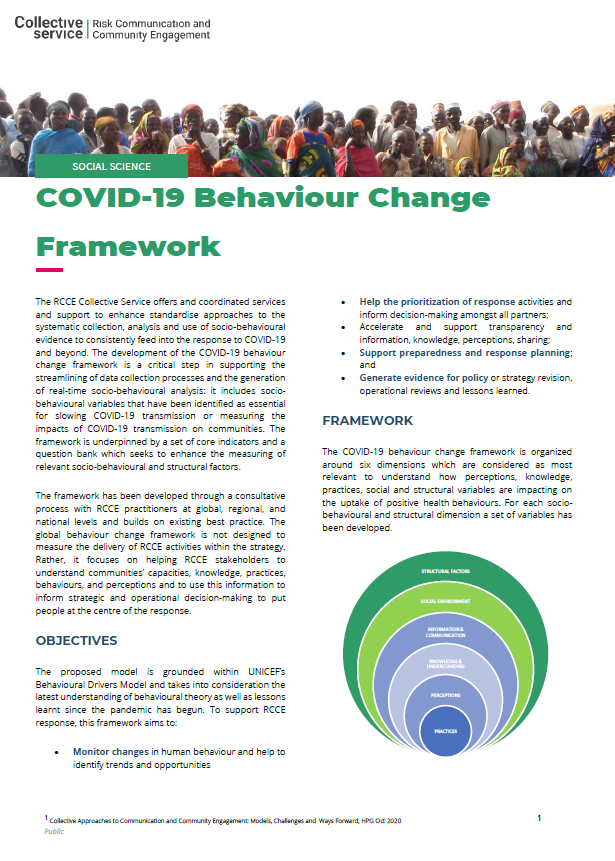 Framework
COVID-19 Behaviour Change Framework
Guidance
New Guidance on Measuring Results in Social and Behaviour Change Communication Programming
Model
A conceptual model for social and behaviour change programming
Question bank on COVID-19 Indicators
Menu of questions about perceptions, knowledge, practices
Social Science Library
Selected reports or briefs on social sciences
Data & Studies Tracker
Repository of research projects, polls and field works on social behavioural changes on COVID-19 
USING SOCIAL SCIENCE FOR EMERGENCY PREPAREDNESS AND RESPONSE
People working in community engagement and/or communications related fields face several limitations to the effective integration of social science in health emergency interventions and policymaking. There are gaps in terms of knowledge and capacity to produce and use operational social science research in humanitarian and health emergency contexts. This comprehensive training package was developed to address these gaps by providing a set of modules with practical guidance to be adapted and used at the local level.
For any questions or specific requests for support on social science, please contact our team via the Collective Helpdesk.
Ginger Johnson
Research Manager & Social Science Team Lead
The Collective Service
Contact form
Submit your RCCE queries in detail here